TORONTO WEST


OFFICE
Scroll down to read report
Last Updated: January 2020
Key Market Statistics
Toronto West - All Office Classes
Announcements:
South and central Etobicoke are going through a transformational period. Landlords are starting to look at potential properties/land which would add more supply of tenant-occupied office space to the area
Construction for the new 18 KM Hurontario LRT is expected to begin at the end of 2019 and be completed by 2024
Major Transactions:
Health and Saftey Innovation renews 100,000 SF at 5110 Creekbank Road
ABB announces 105,000 SF renewal at 3450 Harvester Road
Prodigy Game announces 95,000 SF at 226 Wyecroft Road
Chartwell Headquarters announces 130,000 SF at 7070 Derrycrest Drive
Asking Average Gross Rent & Vacancy (all office classes)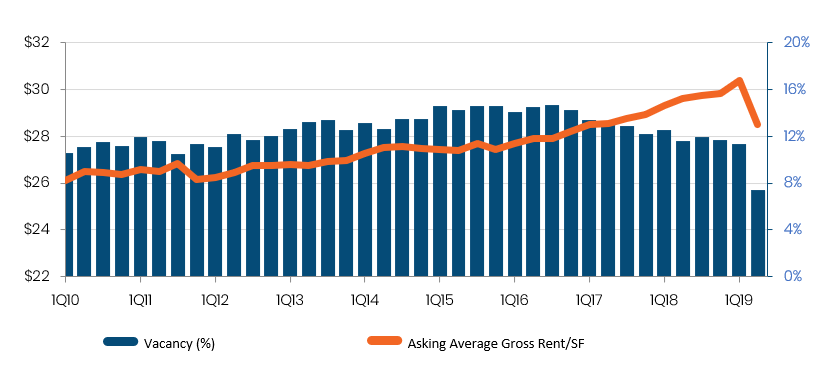 Market Statistic (all office classes)
Market Commentary:
"Some occupiers that may have chosen to go downtown are starting to rethink their strategy by keeping Toronto West in focus, as younger people consider Etobicoke, Mississauga and other locations which tend to have more affordable living options.

It is a slow but steady noticeable resurgence in transit-oriented, amenity-connected office submarkets in Toronto West that we have been predicting for some time."
Principal & Executive Vice-President, Broker of Record
DISCLAIMERAll information contained in this publication is derived from sources that are deemed to be reliable. However, Devencore has not verified any such information, and the same constitutes the statements and representations only of the source thereof, and not of Devencore. Any recipient of this publication should independently verify such information and all other information that may be material to any decision that recipient may make in response to this publication, and should consult with professionals of the recipient's choice with regard to all aspects of that decision, including its legal, financial, and tax aspects and implications. Any recipient of this publication may not, without the prior written approval of Devencore, distribute, disseminate, publish, transmit, copy, broadcast, upload, download, or in any other way reproduce this publication or any of the information it contains.